Jack Broumpton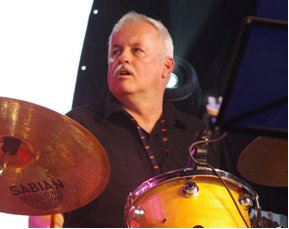 Jack Broumpton is the Chief Judge of the Canadian Drumline Association and is currently performing with the Brian Quebec Trio, and the Sudbury Symphony Orchestra.
Jack has a Bachelor of Arts in music performance from the University of Western Ontario (UWO; now Western University) in London, and a Masters in Music – Percussion Performance from the University of Northern Colorado. He has also studied jazz drumset at Humber College in Toronto.
Jack was an Assistant Professor of Music from 1986-2000 at Huntington College, Laurentian University, and Cambrian College, adjudicated in the Ontario Drum Corps Association and served as provincial chapter president of the Percussive Arts Society. He marched with the Flying Dutchman Drum & Bugle Corps (Kitchener, ON), the Guelph Royalaires Drum & Bugle Corps (Guelph, ON), and the Midlanders Drum & Bugle Corps (London, ON), where he continued as an instructor.
Jack's personal performance highlights would include drumming for Oliver Jones, Slide Hampton, Maynard Ferguson, Mike Murley, Hugh Fraser, and Pat LaBarbera.