John Max McFarland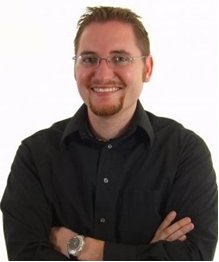 John Max McFarland is currently the assistant director of bands and director of percussion for Notre Dame College in South Euclid, Ohio. On top of those duties he is also the composer and arranger for the marching band and winter percussion programs at Notre Dame College.
John received his degrees in Composition (B.M.) and Percussion Performance (B.M., M.M.) from Western Michigan University. He has performed with the Kalamazoo Symphony and Battlecreek Symphony, and was also a marching member of the Kiwanis Kavaliers Drum & Bugle Corps(Kitchener, ON), as well as the Santa Clara Vanguard Drum & Bugle Corps (Santa Clara, California). John's compositions and arrangements have received international recognition with performances all over the United States as well as Hong Kong and Taiwan. His percussion music is published through Tapspace Publications where he is also on staff as a music engraver. His competitive winter percussion compositions can be purchased through Marching Show Concepts. John has arranged percussion for many marching bands and winter percussion programs including Fruitport High School, Grandville High School, MacArthur High School (San Antonio, TX), Onondaga Community College (Syracuse, NY), and Eastside Fury Winter Percussion Ensemble.
He is currently the percussion arranger for Pioneer Drum and Bugle Corps, and an active music educator and clinician in the Midwest were he instructs Legends Drum and Bugle Corps, Westlake High School in Westlake Ohio, and Brunswick High School in Brunswick, Ohio. John is also the President of New Music Project, a non-profit organization dedicated to the promotion and performance of new music by emerging composers.